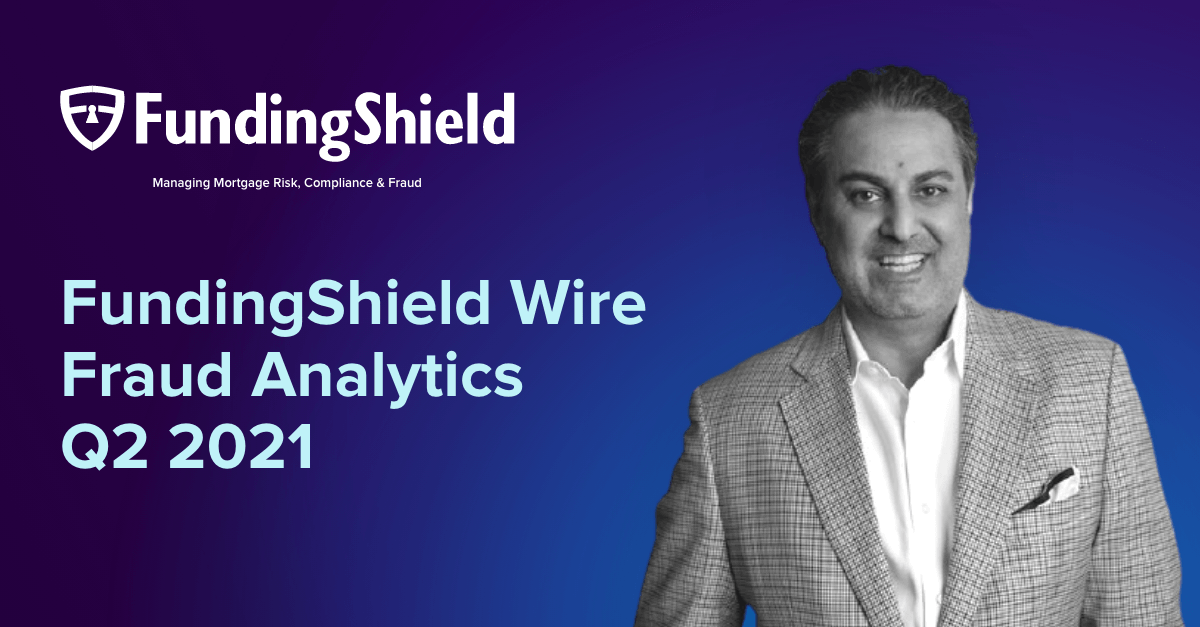 ---
FundingShield Q2 2021 Fraud Analytics
Commentary from FundingShield's CEO Ike Suri
"Wire and title fraud risk continued to rise in the second quarter of 2021 after the all-time high values from the first quarter. Adoption of eClosing and other automation technologies continues to grow in and simultaneously open doors for new fraud schemes.
American citizens and businesses are under attack from hackers and cybercriminals more so than ever before. Compromises of commodity businesses — from financial firms and energy infrastructure entities to consumer software firms — garnered media headlines during the quarter when their systems were hacked and data and/or money was taken. Each of these breaches was a gateway for the bad actors and criminals to rob sensitive data [which is today's liquid gold] for purposes of monetary gain or extortion.
The Biden Administration has rightfully termed the effort 'identify, deter, protect against, detect, and respond to these actions and actors,' in protecting American citizens and businesses from these cyber threats.
Mortgage finance is a primary driver of the US economy and GDP, making the sector a prime target from these bad actors. FundingShield is ideally positioned to facilitate homebuyers and lenders with FinTech tools to prevent wire and title fraud.
Comparing Q22021 vs Q1 2021, there was an additional increase in fraud/risk exposure surrounding CPL errors/issues of 21.7%, a 62.1% increase in CPL/Agent validation errors with title insurers and nearly 114.6% increase in state licensing issues.
These issues highlight production errors, mis-representations, control issues and inaccurate data being transacted upon. creating ideal conditions for fraudsters. Further, we are seeing how improving closing document validation through our processes is driving more efficiencies and fewer errors in the post-closing environment (where many lenders struggle to manage workflows and cost) for our clients. FundingShield helps prevent, identify and resolve these inefficiencies, threats and exposures in a timely manner so lenders can run their businesses without interruptions and reduce reputational nightmares and/or losses by working with only valid, verified and vetted closing agents across the country."
Analytics Q2 2021 v Q1 2021: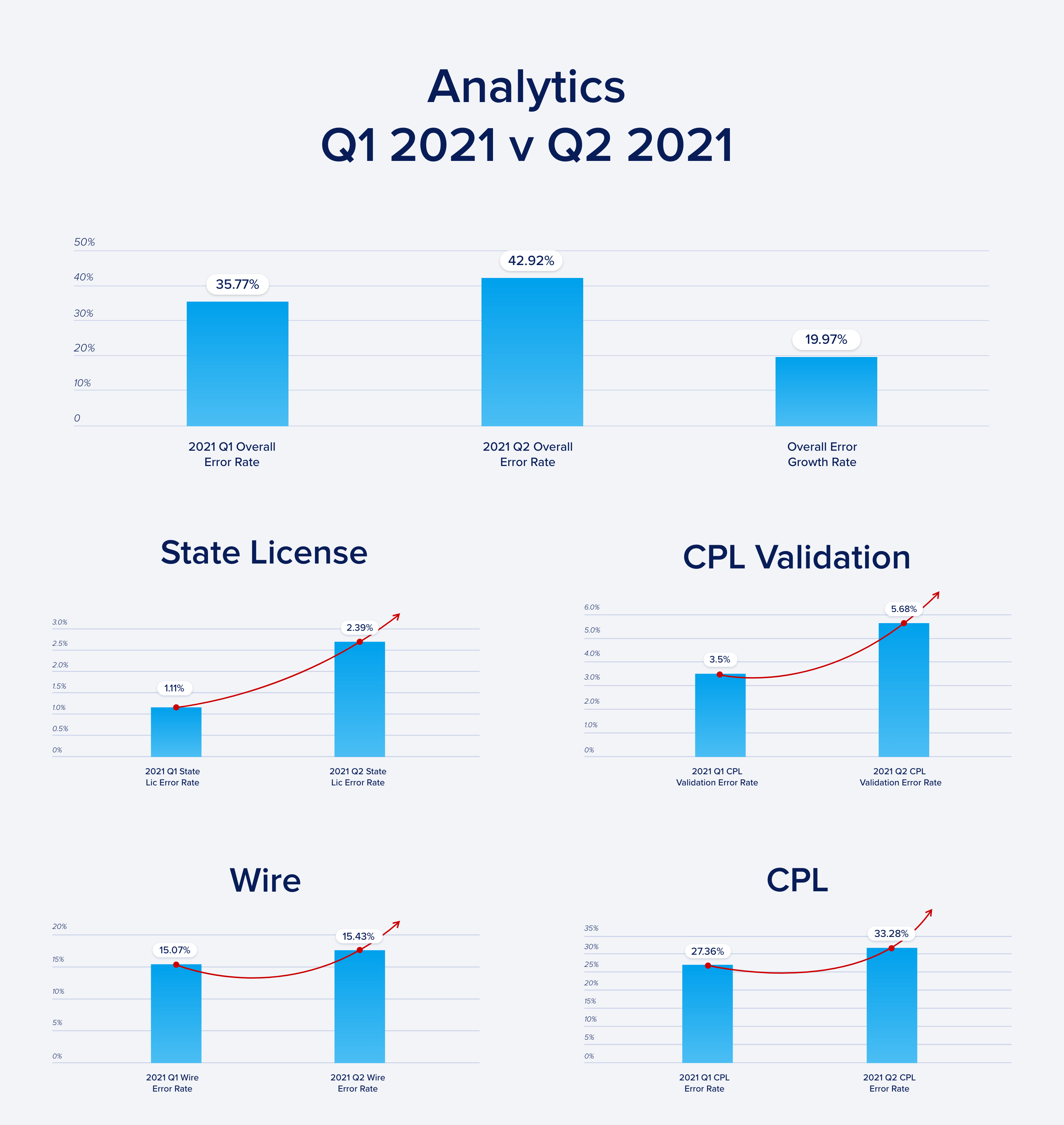 21.7% increase in CPL-related errors from last quarters record-high value.
An additional 62.1% increase in CPL/agent validation-related errors with title insurer systems, growing from last quarter's alarming 2200%+ increase.
114.6% increase in state licensing issues/invalid or non-identifiable licenses of closing agents.
5.4% of transactions had wire fraud-related issues, which remains high.
Additional Context:
With ongoing threats of data and security breaches highlighted by the Biden Administration, threats to the financial services industry remain persistent with ongoing 3rd party cyber and 1st party threats. Breaches in controls or workflows with lenders, title/settlement companies or their real estate partners are reflected in the Q2 2021 figures, which show an overall rise in the risk of wire & title fraud, with 2 of 5 transactions being high risk. The items tracked and observed by FundingShield are a result of our transaction-level reviews that go beyond a vendor risk rating or annual risk review of closing agents and their controls (which does not uncover transaction level risks and inaccuracies that are the key indicators of fraud). Several lenders in FundingShield's implementation pipeline had previously lost funds to fraudsters due to a lack of verifying the elements mentioned in our risk reports. We remind market participants to leverage live data, active transaction level controls, and workflow based risk management tools such as FundingShield's transaction-level tools to prevent fraud.
About FundingShield
FundingShield is a MISMO-certified FinTech offering B2B & B2B2C solutions for transaction-level coverage against wire & title fraud, settlement risk, closing agent compliance & cyber threats while reducing operating costs and improving asset quality for real estate investors and mortgage finance companies including banks, credit unions and independent mortgage banks. FundingShield's user-centric plug'n'play tools are scalable, pay-per-loan, secure, cloud-based and are integrated via API's or LOS (Encompass) driving ROIs >200%. FundingShield is a three-time Housingwire TECH100 Winner for 2019, 2020 & 2021, CFO Tech Outlook Top 10 Financial Security Solution Provider, California MBA Tech Innovator, Ellie Mae Encompass partner and an IBM cloud services partner.
For more information, visit FundingShield.com, email Sales@FundingShield.com or call 949-706-7888.