FundingShield, LLC – Newport Beach, CA – January 29, 2018
FundingShield, LLC ("FS") is pleased to announce Stergios "Terry" Theologides has joined its Senior Advisory Board. Terry brings with him more than 20 years' experience as an executive overseeing mortgage regulatory and risk management issues and developing technology and data-driven products and techniques to manage them.  Most recently, Terry was SVP, General Counsel of CoreLogic, Inc. and was part of the leadership team that launched CoreLogic as a standalone public company. 
Mr. Theologides' leadership experience includes as General Counsel to The First American Corporation's Information Solutions Group, Executive Vice President and General Counsel of Morgan Stanley's U.S. Residential Mortgage businesses, and EVP-Corporate Affairs and General Counsel to a large, national mortgage originator. Terry has served on the Federal Reserve Board's Consumer Advisory Council and in leadership roles in several other industry and professional associations including the Housing Policy Council of the Financial Services Roundtable, the Mortgage Bankers Association, the American Financial Services Association and as Chair of the Consumer Data Industry Association.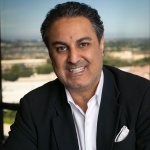 "We have high regard for Terry and his extensive experience, relationship network and understanding of the mortgage & real estate markets to drive strategy, partnerships and growth," shared Ike Suri, Chairman & CEO of FundingShield, LLC.
"I'm delighted to be working with the FundingShield team and am excited about their innovative financial technologies designed to mitigate the growing threat of mortgage wire fraud," shared Theologides.  Terry been a frequent speaker and panelist on regulatory compliance, financial services legal issues, risk management and housing policy.  Terry received his law degree from Columbia University and his undergraduate degree from Princeton.   Outside of work, Terry serves on the Boards of Human Options, a nonprofit dedicated to domestic violence prevention and counseling, and South Coast Repertory Theatre, a Tony-award-winning regional theater. He also serves as an Advisory Board member to Chapman University School of Law's Business Law Emphasis program.
About FundingShield:
FundingShield is a financial technology risk and fraud prevention company that protects the Mortgage, Real Estate, Title, Settlement and Legal Services industries from wire fraud and cyber based theft. Fundingshield's cost & time effective solutions deliver the highest level of control and risk mitigation around cyber based threats of wire fraud / diversion. Fundingshield has proven products with hundreds of billions of dollars of transaction history from its existing clients such as major banks, asset managers and independent mortgage banks of all sizes in the residential/and commercial mortgage business.
For more information on FundingShield or to speak with our sales or product team please email Sales@Fundingshield.com or call (800) 295 0135 x2