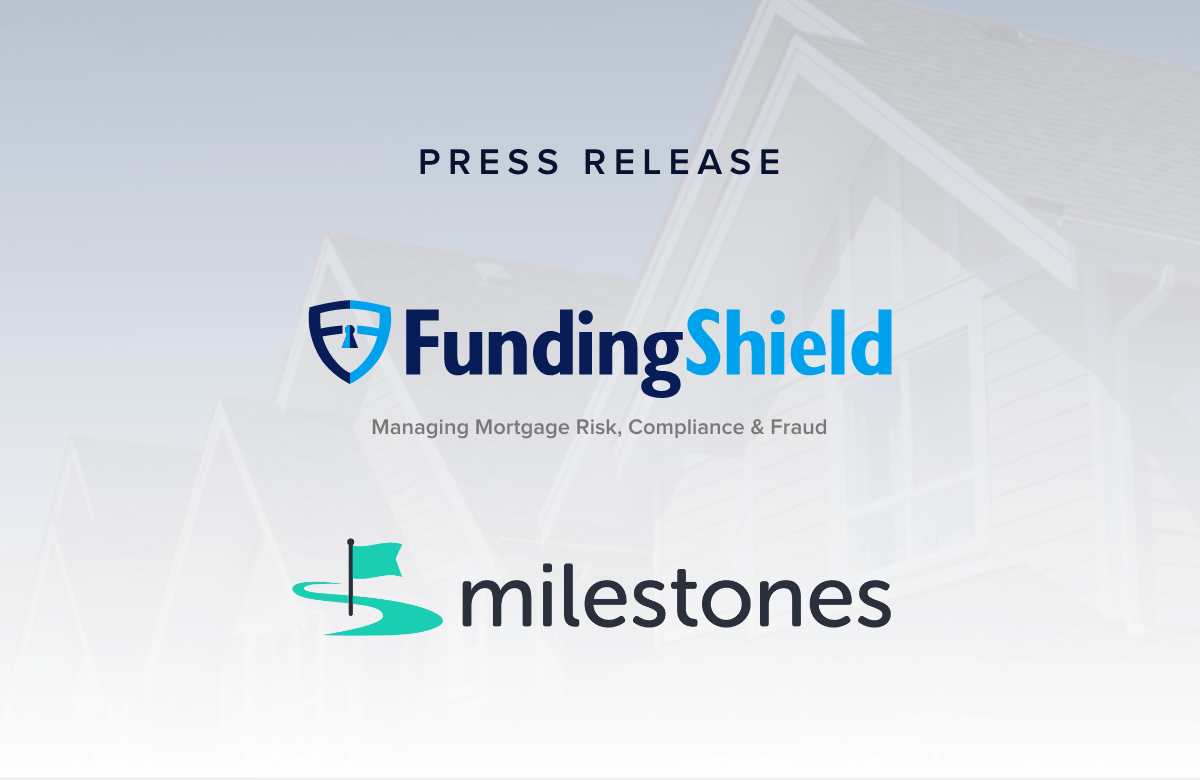 ---
PRESS RELEASE:
FundingShield enters strategic partnership agreement with Milestones.Ai to offer consumer down payment wire fraud protection
Newport Beach, CA (January 17, 2023) – Fundingshield, LLC., is pleased to announce it has entered into a strategic partnership to deliver its consumer wire fraud prevention technology ("CWAVs") to clients of Milestones.Ai ("Milestones") protecting homebuyers from real estate wire fraud.
FundingShield, a leading provider of FinTech risk management and fraud prevention tools used in the US real estate and mortgage finance ecosystem, announced that its Consumer-Wire Account Verification Service (referred to as "CWAVs") will be made available to Milestones.AI clients.
"FundingShield creates a secure closing experience for all parties involved in a loan, from the borrower to the investor and all the service providers in-between," shared Ike Suri, Chairman & CEO of FundingShield. "Our partnership with Milestones will put the tools needed to protect homebuyers in the hands of real estate professionals who are highly incentivized to protect their clients from business email compromise, wire fraud and other risks when those clients wire large amounts of closing funds."
FundingShield provides cyber-security risk management, fraud prevention and transaction closing automation tools to lenders and real estate firms to protect their closings. FundingShield's CWAVs product protects homebuyer's and real estate investor clients through an easy-to-use mobile/tablet responsive product to confirm the settlement wire account information for any closing, settlement, escrow, or attorney account in the country.
Milestones is a customer-for-life experience platform for buying, selling, moving, and managing home ownership – provided to consumers by professionals in real estate, mortgage, insurance, and title. The integrated and open platform creates private personalized client portals where agents can stay connected, educate, and create value at every stage of the homeowner journey.
CWAVs is a first-of-its-kind of product for consumer protection addressing wire fraud risk for consumers in the millions of transactions where homebuyers and real estate acquirers are often given no tools to protect themselves from this growing fraud risk. Fundingshield has secured over $2.5 Trillion of closings in the housing industry to date. This strategic partnership allows realtors, agents and consumers to be on equal footing with sophisticated financial institutions by protecting closings and preserving trust in the real estate closing process.
"We are excited to partner with FundingShield to provide even more value to our real estate clients, and in turn to their consumers," said Dustin Gray, CEO of Milestones. "Milestones' transaction hubs bring all parties into one experience, creating a transparent and delightful closing experience for consumers."
About FundingShield:
FundingShield is a MISMO Certified FinTech offering B2B & B2B2C solutions delivering transaction level coverage against wire & title fraud, settlement risk, closing agent compliance & cyber threats while reducing operating costs and improving asset quality for US real estate investors and US mortgage finance companies. FundingShield's user-centric plug'n'play tools are scalable, pay-per-loan, secure, cloud-based and are integrated via API's or LOS (Encompass) driving ROIs >200% on operational cost savings alone.
FundingShield is a 4-time Housingwire TECH100 Winner for 2019,- 2022 CFO Tech Outlook Top 10 Financial Security Solution Provider, 2021 & 2022 Inc.5000 award recipient (in the Top 500), California MBA Tech Innovator, ICE Mortgage Technology (InterContinental Exchange) Encompass partner and an IBM cloud services partner. Contact info@fundingshield.com for further information.
About Milestones:
Milestones is dedicated to helping real estate industry professionals break free from the transaction mindset by focusing on Homeowner Management. The integrated and open platform creates private client portals to stay connected and deliver ongoing personalized value — regardless of whether customers are buying, moving, owning, or selling. Instant access to verified trusted service partners ensures that clients never have to worry during any life event. The pay off from staying connected and helping customers solve problems: Fiercely loyal customers for life. Learn more at Milestones.ai.