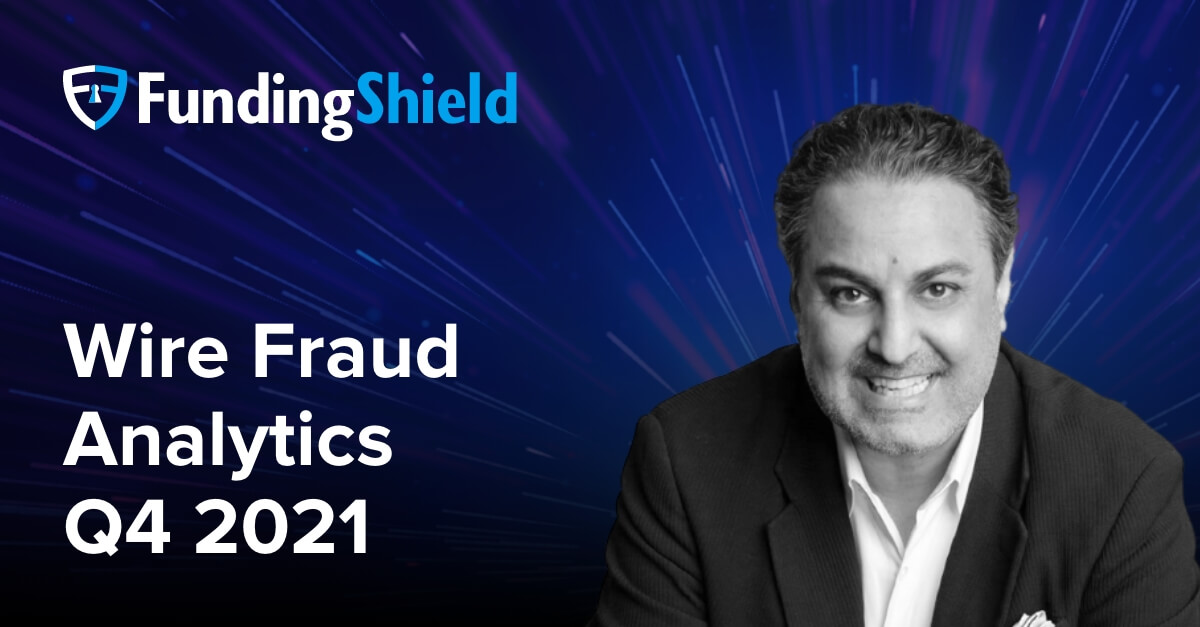 ---
FundingShield Q4 2021 Fraud Analytics
Commentary from FundingShield's CEO Ike Suri
"Wire and title fraud risk remained at elevated levels in the fourth quarter of 2021 where 42% of loans reviewed by FundingShield had at least one risk finding, and of those loans, an average of 2.1 risk findings existed per transaction. This is a sign of continued heightened levels of overall risk and consistently highly concentrated risk elements for problematic loans. In all categories, the fourth quarter levels remained above-average on the approximate $75 Billion plus sample set pulled from Q4 2021 data. This quarter we saw Freddie Mac adding to their 2021-31 selling guide including representations and notification requirements by third-party service providers and vendors of Freddie Sellers and Servicers. This takes place while an ongoing increase in cyber-attacks, ransomware attacks (including an Arkansas and New Mexico County) wire, and title fraud risk grow as E-closings and other automation technologies gaining traction. While all these improvements are in place and being deployed; loan data and document inaccuracy, fraud risk, and new and emerging fraud schemes and vulnerabilities grow. Further, lenders are entering a purchase market where a growing portion of their production will have more closing agent variability creating challenges to diligence closing agents and manage wire and title fraud risk. We have seen a good portion of our clients restrict approval to closing agents who are affiliated with large more well-established title insurers and in many cases move to direct operations of title insurers to provide title and settlement services where they have the ability to select closing agents."
Analytics Q4 2021 v Q3 2021: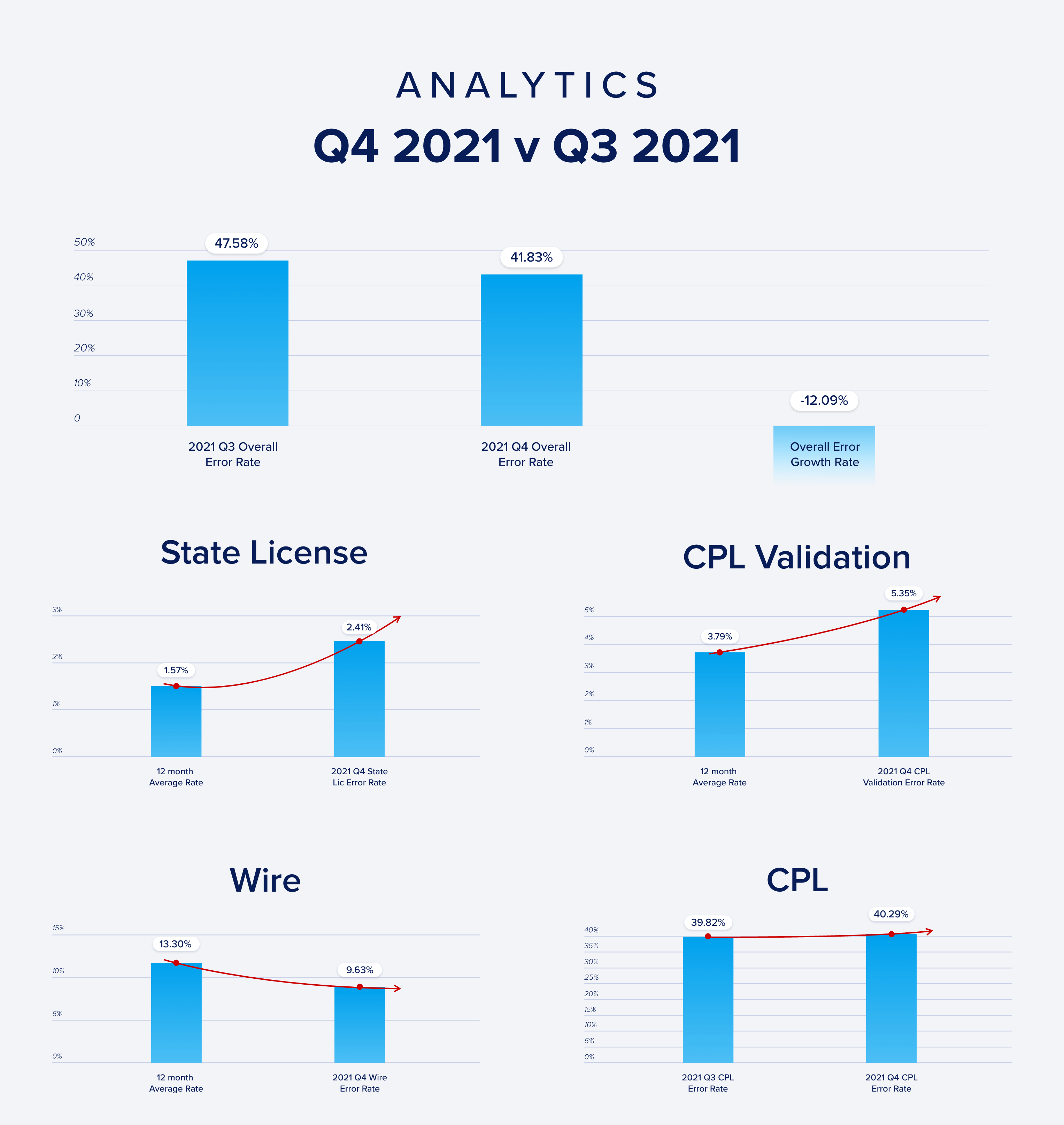 – 40.3% of transactions with CPL related errors

– Additional 5.35% increase in CPL / agent validation related errors with title insurer systems growing from the last 4 quarter average

– 2.4% increase in State Licensing issues / in-valid or non-identifiable licenses of closing agents sustaining record high levels after Q2 2021's 114.6% growth rate

– 9.6% of transactions had wire related issues which remain alarmingly high

– Loans that had at least 1 risk finding have an average of 2.1 risk findings per loan across the metrics of licensed parties, wires, CPL data accuracy, and CPL Validity with Title Insurers among other risk metrics.
Additional Context:
Comparing Q4 2021 vs Q3-2021 there was an additional increase in fraud/risk exposure surrounding CPL errors/issues of 40.3% of transactions, 5.4% increase in CPL/Agent validation errors with title insurers vs the 12-month average, and 2.4% increase in state licensing issues among closing-agents vs the 2021 average. These issues highlight production errors, misrepresentations, control issues, and inaccurate data being transacted upon that create ideal conditions for fraudsters to prey. Gaps in agency approval processes and frequency of review by title insurance firms, reliance upon trade group driven registrations in absence of transaction-level validation, and over-reliance upon self-attested risk ratings by vendors who are paid by closing agents are some reasons that risk continues to penetrate lender and title flows. FundingShield helps prevent, identify and resolve these inefficiencies, threats, and exposures in a timely manner so lenders can run their businesses without interruptions, reputational nightmares, and/or losses by working with only valid, verified, and vetted closing agents across the country. The sample data set used is circa $75 Billion during Q4 of 2021 for this report.


About FundingShield
FundingShield is a MISMO-certified FinTech offering B2B & B2B2C solutions for transaction-level coverage against wire & title fraud, settlement risk, closing agent compliance & cyber threats while reducing operating costs and improving asset quality for real estate investors and mortgage finance companies including banks, credit unions, and independent mortgage banks. FundingShield's user-centric plug'n'play tools are scalable, pay-per-loan, secure, cloud-based, and are integrated via API's or LOS (Encompass) driving ROIs >200%. FundingShield is a three-time Housingwire TECH100 Winner for 2019, 2020 & 2021, CFO Tech Outlook Top 10 Financial Security Solution Provider, California MBA Tech Innovator, ICE Mortgage Technologies partner, and an IBM cloud services partner.
For more information on FundingShield or to speak with our sales or product team please email Sales@Fundingshield.com or call 949 706 7888
Find FundingShield on LinkedIn
#FundingShield #FinTech #MortgageTech #digitalmortgage #mortgagelending #WireFraud #RiskManagement #RegTech #ConsumerProtection #RealEstate #Settlements