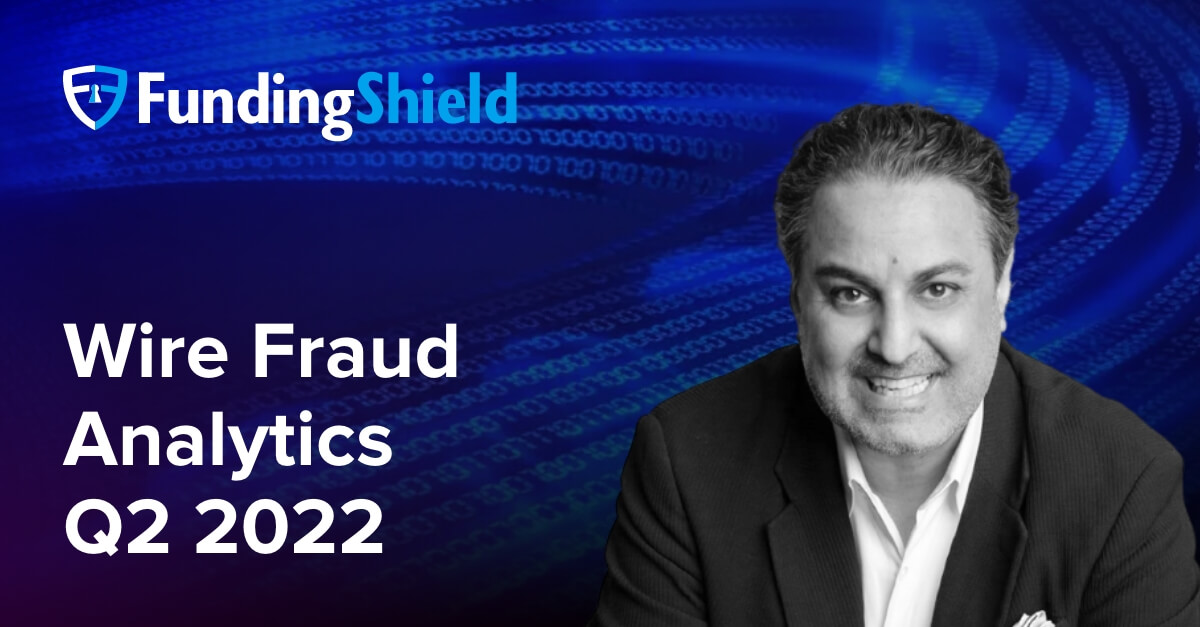 ---
FundingShield Q2 2022 Fraud Analytics
Commentary from FundingShield's CEO Ike Suri
Wire and title fraud risk remained at all time high levels in the second quarter of 2022 while the market contracted, rates increased, and fraud risk continued to rise.  Several national law firms, title agents and independent agents had business email compromise events that FundingShield uncovered after these firms had emails going to market with fraudulent wire instructions unbeknown to anyone at the closing agent / law firms.  Comparing Q2 2021 vs Q1-2022 there was an alarming increase in fraud/risk exposure surrounding wire related issues of 40.7%, a 2 fold increase in Closing Agent Insurance policy coverage gaps and nearly 10% increase in CPL issues.  Our transaction level coverage of up to $5mm per transaction, the only offering in the market, becomes incredibly valuable and important to clients in the current high risk environment. 
These issues highlight production errors, mis-representations, control issues, cyber attacks and business email compromise events that create ideal conditions for fraudsters to prey. FundingShield helps prevent, identify and resolve these inefficiencies, threats and exposures in a timely manner so lenders can run their businesses without interruptions, reputational nightmares and/or losses by working with only valid, verified and vetted closing agents across the country.
The need for cost reductions while still managing risk has never been greater, FundingShield has increased its client count by 15% in the past month alone as clients downsize and seek variable cost solutions in a dynamic and challenging market where fraud is expected to rise.  Again, our unique, transferable and assignable $5mm per transaction warranty becomes highly valuable in the current market due to heightened risk.  
The House Appropriations Bill covering the departments of Commerce, Justice, Science and Related Agencies added language to the bill surrounding Business Email Compromise to promote federal and law enforcement agencies to collaborate with the private sector partners in reporting and monitoring for cyber-based threat events.  As agencies seek best practices this is a sign of more specific requirements for banks, lending institutions and entities that have access to sensitive borrower data and recordable instruments (such as closing agents) to be ready for more scrutiny and in result the need to deploy tools, technology, controls or processes to protect against such threats.  
Additional Reporting on our Q2 2022 analytics by HousingWire 
Analytics Q2 2022 v Q1 2022: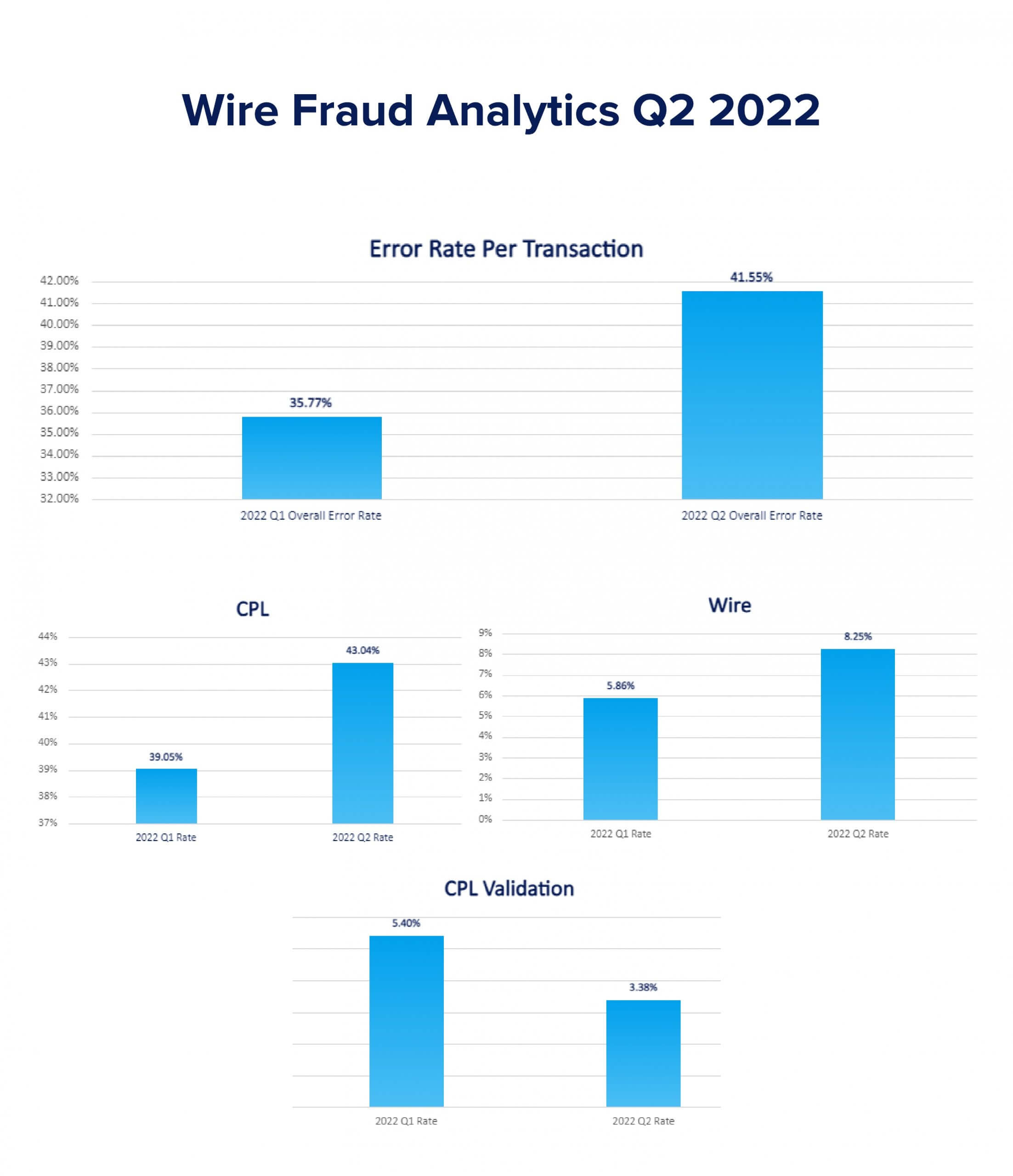 10% increase in CPL related errors 

 

3.4% of transactions had CPL / agent validation related errors with title insurer systems 

 

 

107% increase in insurance coverage issues 

 

 

40.69% increase in wire related issues

 

 
Additional Context:  
With the rising amount of security breaches, threats to closings from 3rd party cyber and 1st party threats due to breaches in controls or workflows with lenders, title/settlement companies or their real estate partners, the numbers for Q2 2022 reflect a high-risk environment for wire & title fraud.  The items tracked and observed by FundingShield are a result of our transaction level reviews that go beyond a vendor risk rating or annual risk review of closing agents and their controls which does not uncover transaction level risks and inaccuracies that are the key indicators of fraud.  Several lenders in FundingShield's implementation pipeline had lost funds to fraudsters due to a lack of verifying the elements mentioned in our risk reports. We remind market participants to leverage live data, active transaction level controls and workflow based risk management tools such as FundingShield's transaction level tools to prevent fraud.   
About FundingShield  
Fundingshield is a MISMO Certified FinTech offering B2B & B2B2C solutions delivering transaction level coverage against wire & title fraud, settlement risk, closing agent compliance & cyber threats while reducing operating costs and improving asset quality for real estate investors and mortgage finance companies including banks, credit unions and independent mortgage banks. FundingShield's user-centric plug'n'play tools are scalable, pay-per-loan, secure, cloud-based and are integrated via API's or LOS (Encompass) driving ROIs >200%. Fundingshield is a 3 time Housingwire TECH100 Winner for 2019, 2020 & 2021, CFO Tech Outlook Top 10 Financial Security Solution Provider, Ellie Mae Encompass partner and an IBM cloud services partner.  
For more information on FundingShield or to speak with our sales or product team please email Sales@Fundingshield.com or call 949 706 7888
Find FundingShield on LinkedIn
#FundingShield #FinTech #MortgageTech #digitalmortgage #mortgagelending #WireFraud #RiskManagement #RegTech #ConsumerProtection #RealEstate #Settlements