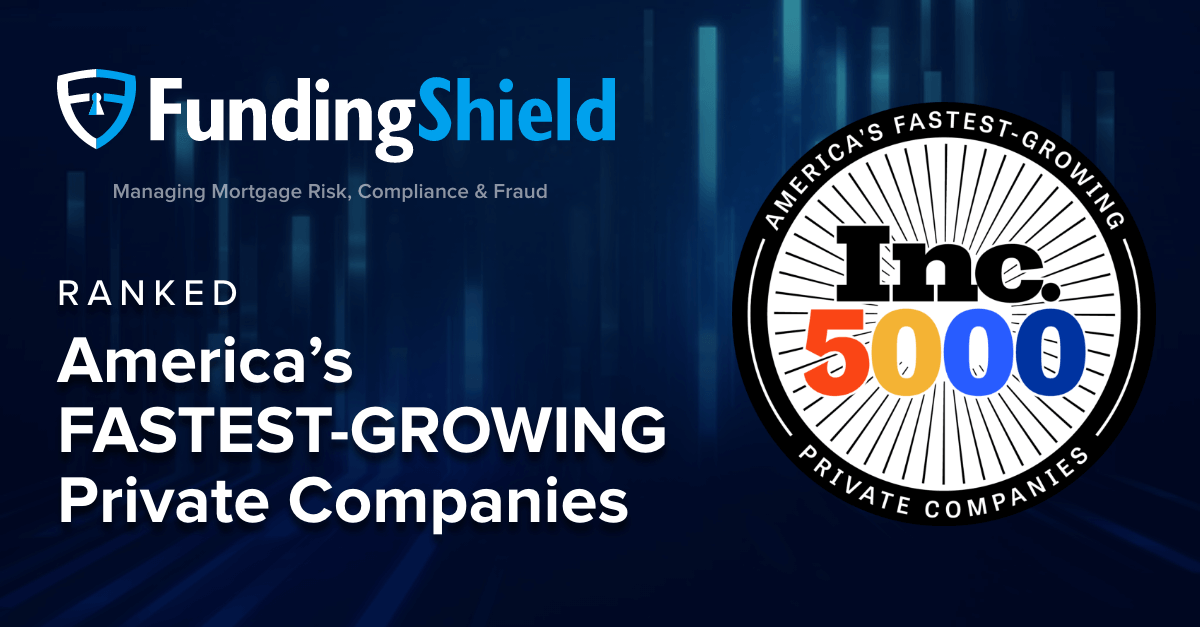 ---
FundingShield named in 2021 Inc. 5000 Fastest-Growing Private Companies List
Newport Beach, CA., August 18, 2021 – Inc. magazine today revealed that FundingShield made its annual Inc. 5000 list of the nation's fastest-growing private companies. Inc. 5000 is not only a prestigious ranking but also offers a unique look at the most successful companies within the American economy's most dynamic segment—its independent small businesses. Intuit, Zappos, Under Armour, Microsoft, Patagonia, and many other well-known names gained their first national exposure as honorees on the Inc. 5000.
"FundingShield has been executing upon our vision and objectives to deliver innovative, malleable, scalable real-time data driven actionable intelligence leveraging proprietary software workflows to financial institutions to mitigate risk, manage compliance and prevent wire fraud," said Ike Suri, CEO of FundingShield. "Being included on the Inc. 5000 list validates our efforts in delivering market leading fintech tools in the mortgage and real estate financial industry. Building a business that adds value to lenders and home borrowers is quite gratifying and rewarding."
Not only have the companies on the 2021 Inc. 5000 been very competitive within their markets, but this year's list also proved especially resilient and flexible given 2020's unprecedented challenges. Among the 5,000, the average median three-year growth rate soared to 543 percent, and median revenue reached $11.1 million. Together, those companies added more than 610,000 jobs over the past three years.
Complete results of the Inc. 5000, including company profiles and an interactive database that can be sorted by industry, region, and other criteria, can be found at https://www.inc.com/inc5000. The top 5000 companies are featured in the September print issue of Inc., which will be available on newsstands on August 20. You can see FundingShield's 2021 Inc. 5000 profile here displaying our ranking of 491 within the top 500 fastest growing companies in the United States and #4 among mortgage and real estate technology firms.
"The 2021 Inc. 5000 list feels like one of the most important rosters of companies ever compiled," says Scott Omelianuk, editor-in-chief of Inc. "Building one of the fastest-growing companies in America in any year is a remarkable achievement. Building one in the crisis we've lived through is just plain amazing. This kind of accomplishment comes with hard work, smart pivots, great leadership, and the help of a whole lot of people."
"The companies on this year's Inc. 5000 come from nearly every realm of business," says Omelianuk. "From health and software to media and hospitality, the 2021 list proves that no matter the sector, incredible growth is based on the foundations of tenacity and opportunism."
For Media Inquiries reach out to Info@fundingshield.com, or call 949 706 7888
About FundingShield:
FundingShield is MISMO certified Real Estate FinTech offering B2B and B2B2C solutions delivering transaction coverage against wire and title fraud, settlement risk, closing agent compliance & cyber threat protection while reducing operating costs and improving asset quality for real estate investors, mortgage finance companies and consumers.
FundingShield's user-centric plug-n-play tools are scale-able, pay-per-transaction, secure, cloud based and are integrated via APIs or through LOS/POS partners in the mortgage and real estate sector driving client ROIs of over 200%. FundingShield is a Housingwire Tech 100 winner for 2019, 2020 & 2021, a 2-time CFO Tech Outlook Top 10 security solutions provider, Ice Mortgage Technology Partner, IBM Cloud Services Partner and California Mortgage Banker Tech Innovator.