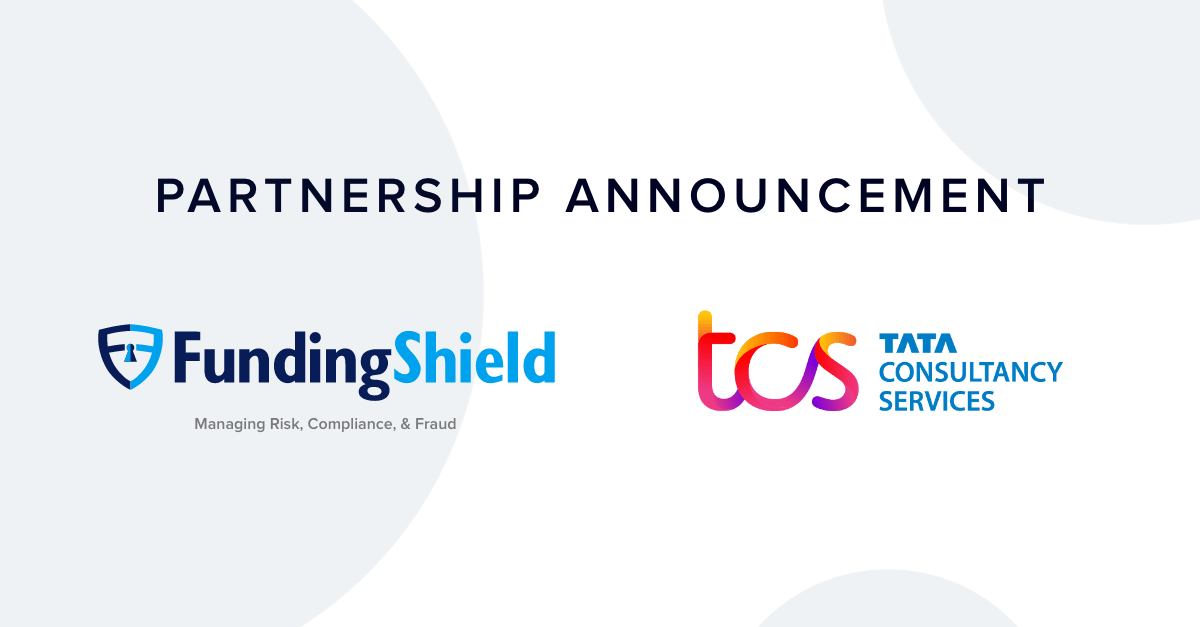 ---
FundingShield Announces Strategic Partnership with Tata Consultancy Services to Increase Accessibility to Wire Fraud Prevention Solutions in the Financial Services Industry
NEWPORT BEACH, Calif. | MUMBAI, India — September 5, 2023 — FundingShield, a market-leading fintech providing plug-and-play solutions to manage risk, compliance, and fraud prevention, has entered a partnership with Tata Consultancy Services (TCS), a global leader in IT services, consulting, and business solutions. Together, with FundingShield's award-winning wire fraud prevention tools and TCS' deep technology expertise and longstanding financial industry experience , the partners hope to protect even more lenders, home buyers, and sellers from the rapid increase in wire and title fraud in recent years.
As cybersecurity risks become more pervasive, lenders are focusing more on data integrity to ensure that data inconsistencies are resolved, and potential frauds are avoided. FundingShield's live ecosystem of service provider source bank data is the largest in the industry with over 95% coverage. TCS clients can now benefit from direct access to FundingShield's cost-saving and risk-mitigating ecosystem, allowing them to uphold superior standards in data integrity, bank account verification, and counterparty compliance.
"Wire fraud prevention has become a mandatory capability as part of any mortgage solution, protecting lending institutions from multi-million dollar risks to the third-party closing, title, and settlement entities," said Santhosh Ananthakrishnan, Global Head – Mortgage Strategic Initiatives, TCS. "We are thrilled to integrate Funding Shield's award-winning capabilities to deliver superior verification services for our financial services customers."
"TCS's global presence, business acumen, and trusted relationships with the world's largest financial institutions will allow FundingShield to deliver its innovative products straight to the banks who need them the most," said Ike Suri, CEO of FundingShield. "The safest way to verify information is through automated, real-time, source-data verification, which is FundingShield's expertise. We look forward to bringing our automations to more of the top US banks, GSEs, and to numerous other sectors where TCS has deep domain knowledge and experience."
About Tata Consultancy Services (TCS)
Tata Consultancy Services is an IT services, consulting and business solutions organization that has been partnering with many of the world's largest businesses in their transformation journeys for over 55 years. Its consulting-led, cognitive powered, portfolio of business, technology and engineering services and solutions is delivered through its unique Location Independent Agile™ delivery model, recognized as a benchmark of excellence in software development.
A part of the Tata group, India's largest multinational business group, TCS has over 614,000 of the world's best-trained consultants in 55 countries. The company generated consolidated revenues of US $27.9 billion in the fiscal year ended March 31, 2023, and is listed on the BSE and the NSE in India. TCS' proactive stance on climate change and award-winning work with communities across the world have earned it a place in leading sustainability indices such as the MSCI Global Sustainability Index and the FTSE4Good Emerging Index. For more information, visit www.tcs.com
About FundingShield:
FundingShield is a FinTech offering B2B & B2B2C solutions delivering transaction level coverage against wire & title fraud, settlement risk, closing agent compliance & cyber threats while reducing operating costs and improving asset quality for US real estate investors and U.S. mortgage finance companies. FundingShield's user-centric, plug-and-play tools are scalable, pay-per-transaction, secure, cloud-based and are integrated via APIs or intelligent UIs driving a client ROI of over 400% on operational cost savings alone.  
FundingShield is a 5-time HousingWire TECH100 Winner for 2019-2023; CFO Tech Outlook Top 10 Financial Security Solution Provider; 2021, 2022; Inc. 5000 award recipient for 3 years in a row 2021-2023, California Mortgage Bankers Association Tech Innovator, an ICE Mortgage Technology (InterContinental Exchange – parent of NYSE) Encompass partner and an IBM cloud services partner.