---
The FBI shared statistics of $10.3B in Fraud losses, this does not include a much larger amount that is grossly unreported from the high risk transactions we identify, prevent, and remediate at FundingShield on real time basis
– Ike Suri, CEO FundingShield.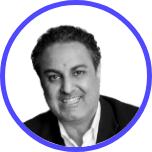 Read more here:
https://www.nationalmortgagenews.com/news/real-estate-related-email-fraud-costs-record-dollar-losses
Business email compromise scams related to real estate set a record for dollar losses in 2022, as the number of cases reported to the Federal Bureau of Investigation rose for the second consecutive year.
The 2,284 complaints received last year, the second most ever, lagged the all-time high of 2,593 set in 2018. In 2021, consumers reported 2,149 incidents.
But, the amount of money lost because of this subset of BEC crime during 2022 was $446.1 million, compared with $430.5 million in 2021 and $242.9 million in 2018. That is approximately 16% of the total BEC losses reported by IC3 in 2022.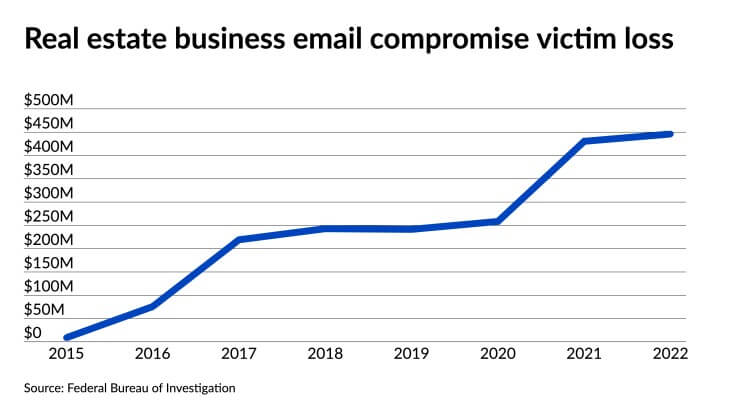 In 2015, the earliest year this data was available, this form of fraud only resulted in 194 reports with losses of just $8.8 million.
"The increases in victim losses of BEC with a real estate nexus are notable with the increase in victim reporting and also may [have] contributed to the rise in real estate costs over the last several years," a public service announcement containing this data from the FBI said.
The results were not a surprise to executives at companies that help reduce fraud in the mortgage closing process.
If anything, the number of instances and the dollar amounts involved are probably underreported, said Ike Suri, chairman and CEO of FundingShield.
And as volume decreases in the mortgage industry, the amount of fraud increases. The company found that 51% of the transactions vetted through its system last quarter had an issue; in the third quarter it was 47.9%.
Because lenders are "trying to save money, they might not have the [financial] resources to update the technological resources in order to combat in an environment where these resources have become more and more important," Suri said.
Business email compromise is really just a social engineering fraud that has a technology component, noted Tom Cronkright, the executive chairman of CertifID. If anything it is one of the lowest forms of a tech crime that IC3 tracks.
"They're just tactically becoming more accurate on their targets and as their conversion rates like this show, fewer instances but higher loss vectors per instance," Cronkright said.
But the growth in dollar losses is at an outsize pace even if price appreciation related to the COVID home buying frenzy and subsequent inventory shortage is factored in.
"So in my opinion, the tighter inventory has led to more cash buyers because of the competitive nature of housing," Cronkright said. In particular, fraud related to mortgage payoffs, was really perfected the last 24 months.
"When the dispersing title agency or escrow company is paying off that mortgage, when they're receiving updated payoffs that are tampered with, that loss vector starts at about $250,000 and goes up," Cronkright said. "Now they're really focused on seller impersonation fraud…impersonating the actual property owner [with] very accurate and authentic looking identity documents."
The best defense against this form of fraud is offense. "If you're not equipped or do not equip your team with the right tools, you're leaving yourself very exposed," Suri said. "The bad actors notice because they're looking at anybody who's vulnerable with staff that has been decreased."
While the industry increased its adoption of technological processes, it has created new vulnerable endpoints that fraudsters can exploit, said Suri.
"When innovation continues to improve, it comes with good results and it comes with exposure," Suri said.
As a preventative measure, "real time verification at a moment in time just before closing so that one can ensure that everything has been verified, has been remediated and corrected," said Suri.
It is important to concentrate on borrower experience, and fraud is one of the things that can ruin that, Cronkright said. Lenders should be looking to verify the identity of the borrower customer in order to prevent mortgage fraud on that side of the transaction.
Cronkright's biggest concern is the level of spoofing by fraudsters of federal or state identification information, to the point even the backs of a fake driver's license can look authentic. But asking simple questions about the transaction to the purported seller or buyer and getting inconsistent responses is a sign something might be wrong.
The fraudsters have become more sophisticated, copying those notices many originators put at the bottom of an email urging verification of instructions, Suri said. They have even created their own automated calls looking to get a consumer's personal information.
The use of artificial intelligence tools has made this even easier, Cronkright agreed.
In the future, the mortgage industry will be as good as many others "where these vulnerabilities will have been mitigated," Suri said. "The resources being deployed are making very good progress."
Brad Finkelstein
Originations Editor, National Mortgage News